Pastoral Vacancy

We are currently in pastoral transition after our senior pastor resigned in June of 2023 to move to another ministry in Washington state.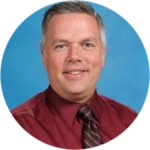 Rick Mattish, Principal of Calvary Christian School
Mr. Rick Mattish began teaching at Calvary Christian School in 1995 as our grades 7-12 math and science teacher. He became our school's vice-principal in 1999 and principal in 2009; however, he enjoys having an ongoing teaching role in the upper grades. He also referees for school sports games and coaches where needed as well.
He desires that CCS be a place where God is honored as young people develop strong character consistent with Biblical values in an academic setting that inspires each child to succeed to the best of his or her ability.
Rick and his wife, Stacey, have worked side-by-side in the school since 1995 and have enjoyed seeing all three of their children attend Calvary. Their children graduated in 2014, 2017, and 2019 from Calvary. He chose Christian education as a teacher and for his own children because he believes strongly in the value of an education that includes Christian values and a biblical worldview.